Description
Altieri Double Pocket Flute and Piccolo Bag
Description
Spacious and compact all in one, the Altieri Double Pocket Flute and Piccolo Bag has room for all the essentials required by the travelling musician. Altieri are one of the top instrument bag and case manufacturers. Their well thought out design makes the transport of instruments a lot less hassle and strain. This bag comes equipped with two sections providing space for up to three flutes and Piccolo. Cords are provided to hold your instruments tightly in place, especially for when mounting the bag on your back, as well as an allocated piccolo pouch. In addition to this, there are two pockets which can expand making room for plenty of music and other accessories including stands and tuners. The pockets also contain sections to help keep your bag organised and tidy.  The case comes with a sturdy handle and an attachable single shoulder strap. All in all a very secure, robust bag to ease your travel. Altieri have been making gig bags and case covers for over 30 years now. Based in the USA, their products ensure the quality of their years of experience. Alongside this, the addition of modern day technology is the recipe for the most sturdy and useful bags.
Technical Specifications
Up to 3 Flutes and Piccolo
Dimensions: L=50cm x H=36cm x D=10cm
Black, Nylon
Weight: 680g
1. Center cord holds case(s) in place, especially when swinging the bag on one's back 2. Adjustable piccolo pocket (some flutists use it for their wallet) 3. As you can see, the bag easily holds 2-3 flutes or double case comfortably.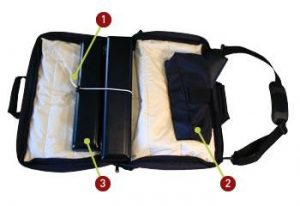 Each bag is constructed of 5 separate layers:
Outer shell of Nylon Packcloth
Moisture vapor barrier
Heat/Cold Reflecting MYLAR—the material of a space blanket.
Dacron batting for cushioning
Thermal ultrasuede lining on the top, inside layer
If you have any queries, please call us on 020 7388 8438 (UK) or +44 20 7388 8438 (International)

Product Delivery
We dispatch all accessories within the UK via Royal Mail, unless otherwise requested.
We will endeavour to dispatch your order by return and availability of stock, if received before 2.30pm.
Stocked items may not always be immediately available. Click here to find out more.
We use a secure courier service for overseas deliveries outside of the United Kingdom. Delivery charges will vary depending on location and weight of goods.