Description
Thumbport II Flute Thumb Rest
Thumbport II Flute Thumb Rest
About
This thumb rest has been designed to help players balance/hold the flute more comfortably. It is comprised of a C-shaped shell and a thumb-like extension. The Thumbport helps the player to place the right thumb at an efficient spot and provides additional support.
Analysis
Mechanically, there are three factors associated with balancing a flute:
1. The mass (weight) of the flute
2. Horizontal rotation,
3. Axial rotation. The gravity centre of a flute is located slightly to the right of the left index finger (see letter G in Illustration 1 below).
When the knuckle of the left index finger takes up most of the weight of a flute at number 2, the small remaining weight is often assumed by the right thumb.
When playing the flute, the player pushes the embouchure plate against the chin (Ill. 1, number 1). With the left index finger both supporting and pushing, the flute might rotate clockwise without a counterforce from the right hand.
Additionally, the uneven weight of the flute mechanism contributes to another rolling tendency.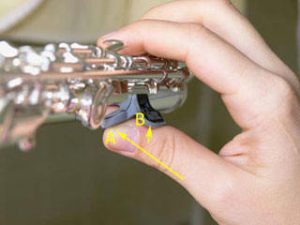 If you have any queries, please call us on 020 7388 8438 (UK) or +44 20 7388 8438 (International)

Product Delivery
We dispatch all accessories within the UK via Royal Mail unless otherwise requested.
We will endeavour to dispatch your order by return and availability of stock if received before 2:30 pm.
Stocked items may not always be immediately available. Click here to find out more.
We use a secure courier service for overseas deliveries outside the United Kingdom. Delivery charges will vary depending on the location and weight of the goods.