Specialist Flute Repair – London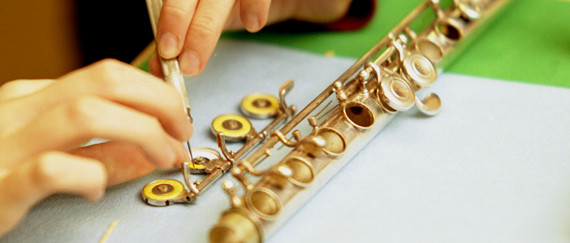 We have an in-house workshop, run by three experienced and very well respected repairers, Eliana and Megumi.
In 1979, All Flutes Plus began life centered on its workshops and the unique flute repair service offered by its technicians. More than 30 years on we have stayed in touch with our roots. Repairs and servicing remain a key part of our business. Our fully equipped workshop and highly trained specialist technicians ensure that we provide an efficient and professional service that is second to none. We endeavour to fit in emergency repairs on the spot but, to avoid disappointment, please call to let us know you are coming in. We strongly recommend you book servicing in advance.
The AFP Support Plan and one-year manufacturers' guarantees come as standard, but we go one step further. All new instruments supplied by all flutes plus are covered by the AFP Support Plan. This guarantees that any necessary adjustments* to your flute are carried out completely free of charge for a one-year period, whatever flute you buy. Rest assured, from the most minor of adjustments to complete overhauls and renovations you can rely on the quality and expertise of our technicians.
*Excludes damage caused by misuse or accident
"Eliana has repaired and serviced my flutes on numerous occasions over the years and I am always happy with her work and can not recommend her highly enough."
 Juliette Bausor (Principal Flute – London Philharmonic Orchestra)
If you have any enquires or would like to make a booking for flute repair / service / overhaul, please contact Eliana or Helen on 020 7388 8438 or email us at afp@allflutesplus.com
Flute Service Time Lapse video in workshop at AFP
Ever wondered what happens to your flute during a service? Here is a time lapse video crammed into 3m 36s. It is our very own Eliana Amos (Senior Flute Technician) in the Afp All Flutes Plus workshop.
The accompanying music is the amazing Greg Pattillo flute beat boxing legend with Project trio. Enjoy!