Description
The Fluteshield
The Fluteshield
Flute and piccolo versions are available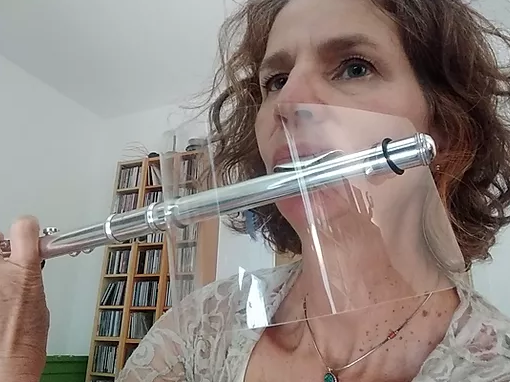 Product info by Janna Huneke
Product info-Sunday 28th June 2020: By using this device, the airstream is effectively reflected back at the player and reduces the onward projection of the airstream, enabling you to hear your own sound really accurately, apart from also being a very useful way of keeping your airstream to yourself!
It's unobtrusive and comfortable to use too. As a teaching or practising aid, I think this can be invaluable, as you hear your sound reflected back from very nearby, enabling you to hear what other people hear  – and then you can make adjustments to your sound using this feedback. 
NB: the strong flow of air comes out of your mouth only. 
Diameters of flute head joints that the FluteShield will fit:
Cork End: 17 – 19mm • Body End: 19 – 22mm
Disclaimer: The Fluteshield does not stop the spread of Covid-19 or any other viruses or bacteria.  The FluteShield simply allows a player to not blow directly at whatever is in front of them. A Fluteshield is not personal protective equipment.  In circumstances where Personal Protective Equipment is recommended, you should consult a healthcare professional.
If you have any queries, please call us on 020 7388 8438 (UK) or +44 20 7388 8438 (International)


Product Delivery
We dispatch all accessories within the UK via Royal Mail, unless otherwise requested.
We will endeavour to dispatch your order by return and availability of stock if received before 2.30pm.
Stocked items may not always be immediately available. Click here to find out more.
We use a secure courier service for overseas deliveries outside the United Kingdom. Delivery charges will vary depending on the location and weight of the goods.