Description
The Fluteshield
The Fluteshield (A listening and performing tool)
Flute and piccolo versions available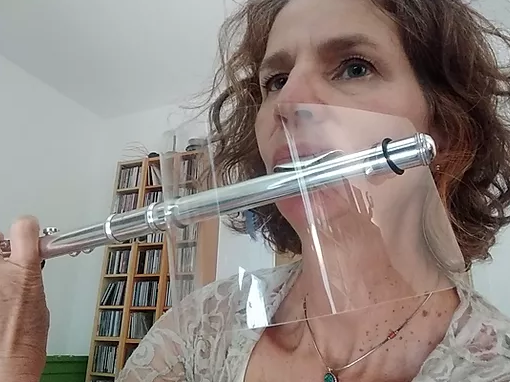 Product info by Janna Huneke
Product info-Sunday 28th June 2020:
By using this device the airstream is effectively reflected back at the player and reduces the onward projection of the airstream , enabling you to hear your own sound really accurately, apart from also being a very useful way of keeping your airstream to yourself! It's unobtrusive and comfortable to use too.

As a teaching or practising aid, I think this can be invaluable, as you hear your sound reflected back from very nearby, enabling you to hear what other people hear  – and then you can make adjustments to your sound using this feedback. 
NB: the strong flow of air comes out of your mouth only.  Sound-waves emerge from the end of the flute and from the tone-holes (you can measure this using a candle flame if you are interested!)
Diameters of flute head joints that the FluteShield will fit:
• Cork End: 17 – 19mm
• Body End: 19 – 22mm
Disclaimer:
The Fluteshield does not stop the spread of Covid-19 or any other viruses or bacteria.  The FluteShield simply allows a player to not blow directly at whatever is in front of them. A Fluteshield is not personal protective equipment.  In circumstances where Personal Protective Equipment is recommended you should consult a healthcare professional.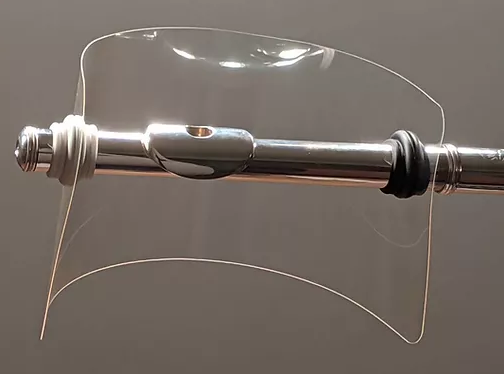 If you have any queries, please call All Flutes Plus on 020 7388 8438 (UK) or +44
20 7388 8438 (International)
Product Delivery
All Flutes Plus accessories are dispatched within the UK by Royal Mail unless otherwise requested with a standard flat-rate of £2.50 per package.
All Flutes Plus endeavor to dispatch your order by return and availability of stock if received before 2.30pm.
For delivery outside the UK a secure courier service is used for overseas shipment. Not only will the delivery charge change depending on the location, but also the weight of the goods.
Warranty / Guarantee
Finally, AFP products are guaranteed for a year against any defective material under normal use during the first year of purchase, and are covered by the AFP Support Plan.