eFlute Festival 2020 is hosted by Flute School London, a course renowned for its world-class guest artists and encouraging and friendly atmosphere. Our mission is to bring flute players of all ages and standards together during this difficult time and provide a platform for unity, sharing, inspiration and learning. We are aiming to offer all the elements of our usual course, keeping as much of it 'live' and as interactive as possible.
eFluteFestFlyer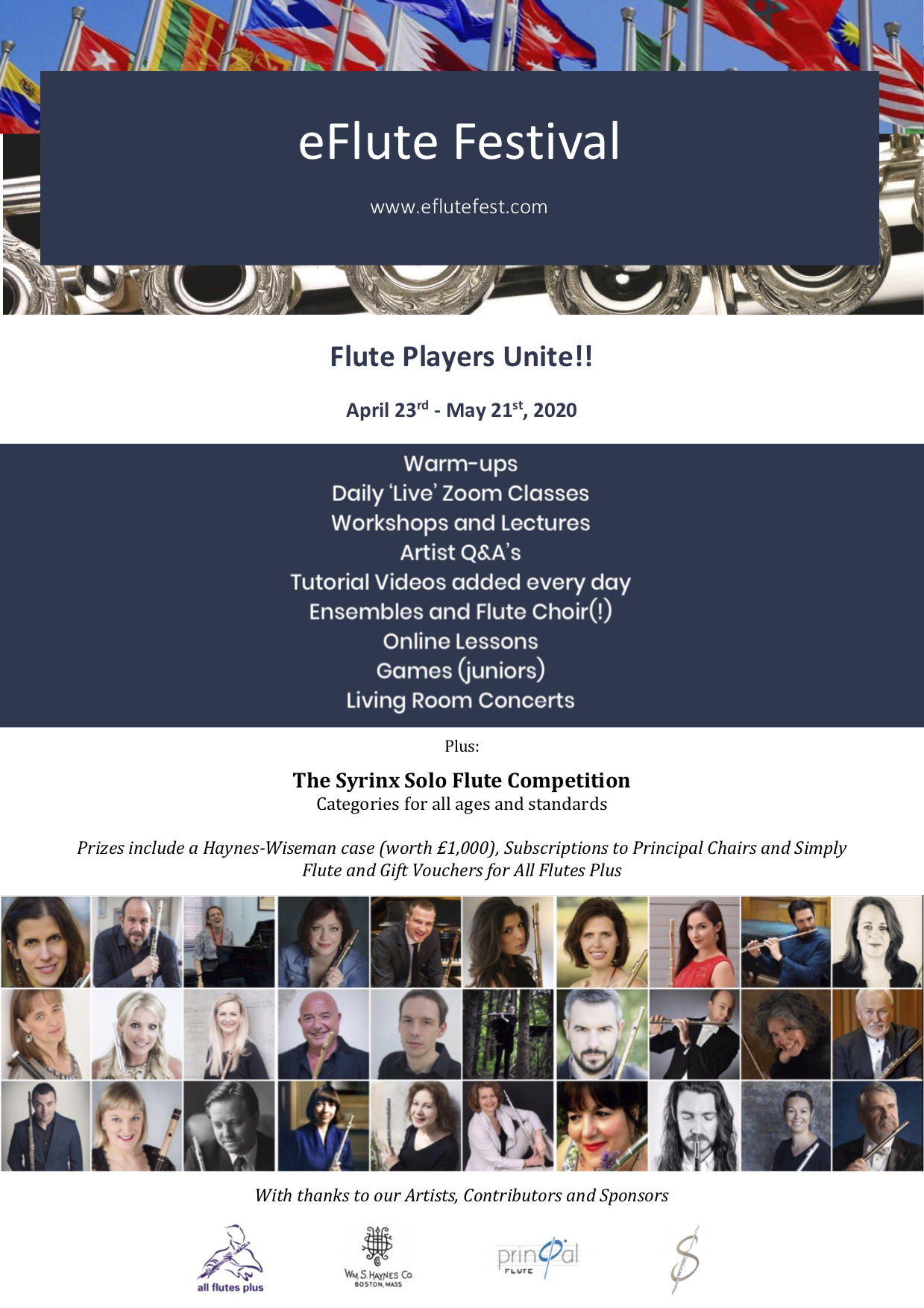 How it will work
This is an ambitious project to deliver but we will be making the process very simple and user-friendly. Clear instructions will be emailed and all you'll need is your flute, a computer and an internet connection!
eFlute Festival 2020 will run for a month, with interactive classes, social activities, online content added daily, and live zoom sessions run by our esteemed Guest Artists.
Warm-ups
Masterclasses
Workshops & Lectures
Artist Q & A'S
Tutorial Videos
Ensembles & Flute Choir
Competitions
Online Lessons
Games (Juniors)Living Room Concerts
eFlute Festival 2020 is a month-long event held exclusively online. Suitable for players of all ages and standards, there will be something for everyone!
The main festival will be running daily warm-ups and zoom classes, led by our Guest Artists. These classes will include masterclasses, seminars, interactive workshops, and concerts. Please see the schedule for full info.
Juniors will be able to attend the main festival (with parental permission) but also have their own zoom classes twice a week.
We will also be offering a huge 'video bank' of tutorials, messages and concerts, all of which can be watched at your leisure, and have been made especially for the event.
The sociable side of this event is very important to us too, so will be hosting quizzes as well as running a forum (break room) and a facebook page for people to connect. We will also be providing sheet music and support for anyone wanting to join an online ensemble or study group.
At the end of eFlute Festival 2020, we will attempt(!) a mass flute choir piece, arranged especially for the event.
FOR MORE INFO, CLICK HERE
---
eFlute Junior Festival 2020 (April 23 – May 21 2020)