Galway Weggis Flute Festival with Sir James and Lady Jeanne 19th-28th July 2019
Galway Weggis Flute Festival with Sir James and Lady Jeanne 19th-28th July 2019
DUE TO A RECORD NUMBER OF APPLICANTS, REGISTRATION FOR PERFORMERS IS NOW CLOSED. HOWEVER, THE GALWAY WEGGIS FLUTE FESTIVAL ARE STILL ACCEPTING DAY VISITOR (AUDITORS) FOR CONCERTS, MASTERCLASSES AND WORKSHOPS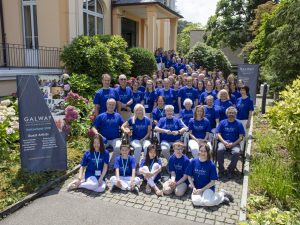 Each day at the Galway Flute Festival begins and ends with ALL students together! Every day begins with warm-ups led by Sir James, focusing on tone production and technique. The day continues with masterclasses given by Sir James and Lady Galway, along with Guest Artists' workshops on solo repertoire, technique, orchestral excerpts, chamber music, jazz improvisation, piccolo, low flutes, contemporary techniques and more. Evenings are filled with concerts by the world's leading flutists and an Opening Gala Concert with Sir James and Lady Galway. The Festival ends with the Grand Finale Concert, featuring the Festival Flute Choir, which is your chance to perform in an ensemble directed by Sir James!
Throughout the week we have a large array of beautiful instruments on display for you to play and enjoy, thanks to the many flutemakers who support our Festival. Thanks to their generosity, we are fortunate to be able to offer special prizes to deserving students at the end of the Festival. These prizes include handmade head joints, piccolos, flutes and scholarships towards next year's Festival!
All classes are open to all students and music lovers to observe throughout the Festival.
We invite you to join us at the 30th Anniversary Galway Flute Festival from 19-28 July 2019, for an inspiring week filled with picturesque sights and sounds, taught by the Master and his friends! http://galwayflutefestival.com/masterclasses
---
Sir James holds his daily class with pre-selected students in the main hall, the Aula, which is open to all auditors and participants to observe. This presents a fantastic opportunity to listen to fellow students perform and learn from "The Master of the Flute". Students of all levels will benefit from listening to Sir James while he assists and guides them through complex passages and shares his years of experience and wisdom. His characteristic style of teaching is combined with humour, advice, opportunities for questions and demonstrations provide hours of learning from the maestro.
---
Lady Galway brings her passion for teaching, her expertise and years of learning from Sir James to the students of the Galway Flute Festival. Students of all levels are welcome to join in this class held every afternoon including a special class on technique, tone development and studies. Each active participant will have an opportunity to perform with a pianist in a masterclass setting and be coached by Lady Galway on this piece. Lady Galway has a teaching style that suits all levels of players and she shares her passion for playing the flute by making all students feel relaxed and worthy.
Lady Galway accepts students of all levels in her class. It would be helpful to have attained the equivalent of Grade 4/5 ABRSM to play some of the technical studies.