Sounds of Proper Posture with Anna Pope and David Katz February 2021
Sounds of Proper Posture with Anna Pope and David Katz February 2021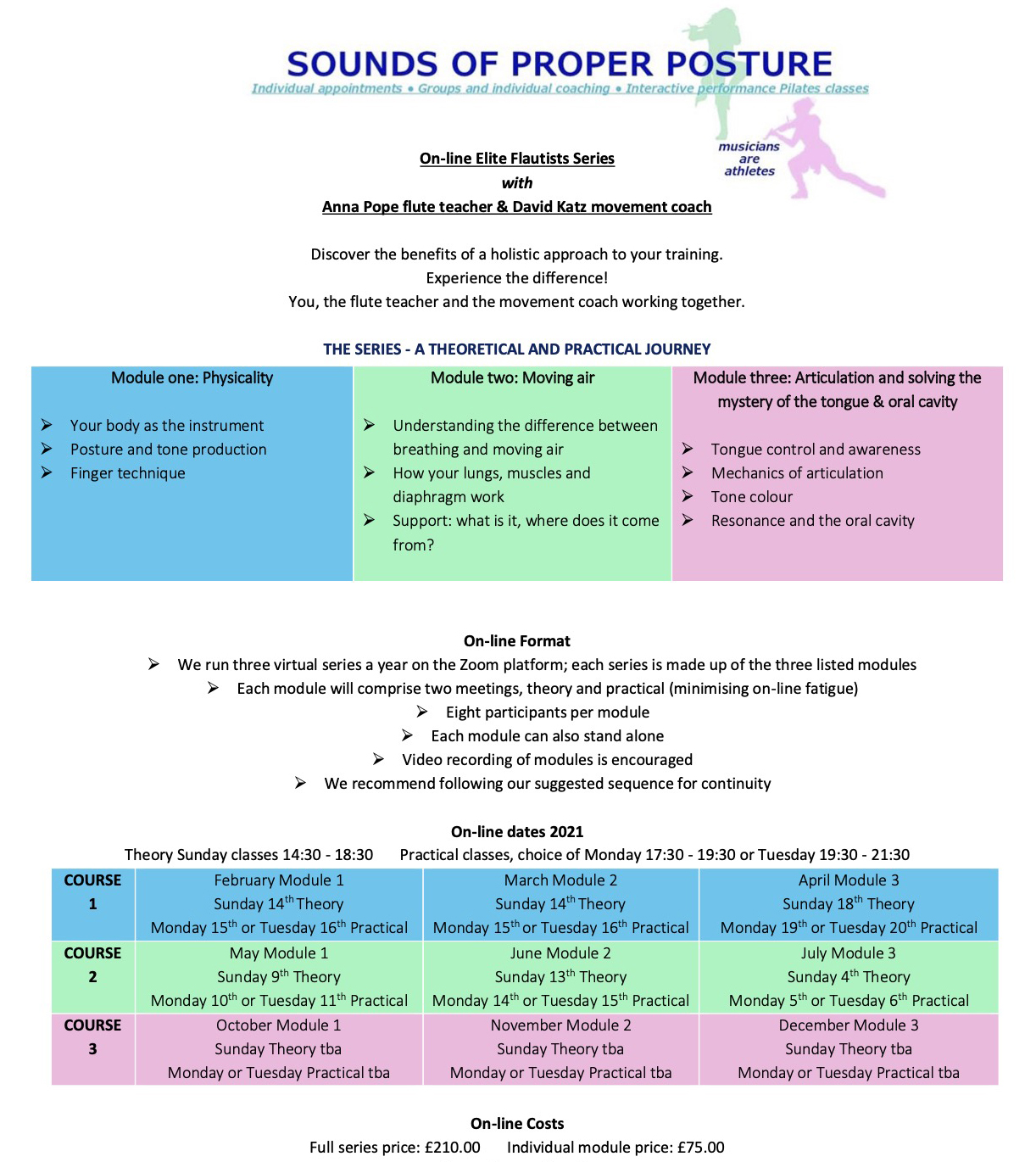 On-line Elite Flautists Series with Anna Pope flute teacher & David Katz movement coach
Discover the benefits of a holistic approach to your training. Experience the difference!
You, the flute teacher and the movement coach working together.
THE SERIES – A THEORETICAL AND PRACTICAL JOURNEY
Module one: Physicality
➢ Posture and tone production
➢ Finger technique
Your body as the instrument
Module two: Moving air
➢ Understanding the difference between breathing and moving air
➢ How your lungs, muscles and diaphragm work
➢ Support: what is it, where does it come from?
Module three:
➢ Tongue control and awareness ➢ Mechanics of articulation
➢ Tone colour
➢ Resonance and the oral cavity
➢Articulation and solving the mystery of the tongue & oral cavity
On-line Format
➢ We run three virtual series a year on the Zoom platform; each series is made up of the three listed modules ➢ Each module will comprise two meetings, theory and practical (minimising on-line fatigue)
➢ Eight participants per module
➢ Each module can also stand alone
➢ Video recording of modules is encouraged
➢ We recommend following our suggested sequence for continuity
On-line dates 2021
Theory Sunday classes 14:30 – 18:30
Practical classes, choice of Monday 17:30 – 19:30 or Tuesday 19:30 – 21:30
On-line Costs
Full series price: £210.00 Individual module price: £75.00
Information and booking
Email anna@soundsofproperposture.co.uk