A Course for Elite Flautists with Anna Pope and David Katz-Nov 2019
A Course for Elite Flautists with Anna Pope and David Katz-Nov 2019
A Course for Elite Flautists presented as two stand-alone modules and a consolidation module by:
Anna Pope – Flute Teacher
David Katz – Movement Coach
Are you a dinosaur? Now for something revolutionary …
Musicians are athletes as well as artists. Traditional teaching methods neglect the body. Experience the benefits of evolution from this 'dinosaur approach' to a holistic approach – you, the Flute Teacher and the Movement Coach working together.
Module One
❖ Your body as the instrument
❖ Posture and tone production
❖ Finger technique
Module Two
❖ Breathing; understand how your lungs, muscles and diaphragm work ❖ Support; what is it, where does it come from?
❖ Articulation; solving the mystery of the tongue
Consolidation module
❖ Consolidation and integration of modules one and two.
❖ Performance masterclass; a 'before and after' comparison of solo and ensemble playing
Format
Modules one and two will be run in the autumn and spring terms. They can be attended in any order. Modules one and two must be completed before attending module three which will be held in the summer term. 2020 dates and London venue to be confirmed.
Cost:
£125.00 per module Including refreshments and memory stick video diary of your day (maximum of six participants).
Dates:
Autumn Module One: Sunday 10th November 2019
Autumn Module Two: Sunday 1st December 2019
Venue:
London School of Soft Tissue Therapy, 28 Station Parade, Willesden, London NW2 4NX
Website: www.flute-fit.com
Information and booking:
Please use contact page on the website
---
Anna Pope
MA (Oxon), Hon ARAM, ARCM

Anna Pope teaches the flute at the Purcell School, the Junior Royal Academy of Music and Trinity Laban Conservatoire of Music. She has taught at specialist level for over 20 years and is very proud of the achievements of her pupils. They have been an almost continuous presence in the National Youth Orchestra of Great Britain since 1993, including three principal flutes and two principal piccolos. Emma Halnan in 2010 was the second of her pupils to be a Concerto Finalist
in the BBC Young Musician competition. Many of her former students are now in the profession as players and teachers, notably Juliette Bausor, principal flute of the Northern Sinfonia and London Mozart Players.
Anna has always concerned herself with the physical and mental well-being of her students, seeing a fit body and mind as fundamental to the achievement of full potential. Her collaboration with David Katz to introduce Bodywork into instrumental training has added a whole new dimension. Their research is ongoing, and their constantly evolving techniques are producing exciting results.
Anna is a member of the Pipe Dreams trio. A CD is available on the Guild label, GMCD 7390.
---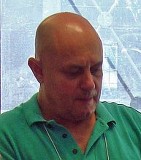 David Katz is a highly skilled movement consultant & manual therapist, with a passion for the biomechanics of ideal dynamic & static posture.
David uses a variety of massage, mobilization & movement techniques to maintain or restore ideal function. He runs his own busy Remedial Pilates studios & Bodywork practice.
David teaches his own courses, is a senior tutor at the London School of Sport & Remedial Massage, is a lecturer on the "Balanced Body Pilates on tour London" & a presenter on other mainstream Pilates courses at graduate & post graduate level.
In private practice for nearly twenty years David has worked with clients in many fields, from international sports & professional dancers to office workers. David has a particular interest in how form & function affect performing artists.