34th William Bennett International Flute Summer School-2nd-9th August 2019
34th William Bennett International Flute Summer School-2nd-9th August 2019
William Bennett & Lorna McGhee
at the Woldingham School, Surrey, UK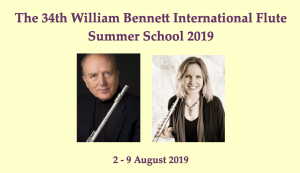 Teaching assistants
* Michie Bennett * Yi-Hsuan Chen * Jagoda Krezminska
Pianists
Seungwon Lee and Joseph Havlat
* Master class sessions will be held in the mornings and afternoons by William Bennett and Lorna McGhee.
* Flute Basics classes in every afternoon, Michie Bennett , Jagoda Korezminska, Yi-Hsuan Chen will give a basic class to tone production, pitch control and flexibility.wibbdi
* Individual lessons from the Teaching Assistants.
* There will be an Orchestra study class everyday with Vytenis Gurstis.
* There will be a class given by William Bennetts on Marcel Moyse 24 little melodic studies, which we consider to be the most important work to lay the foundations of good articulation, phrase building, and developing the use of different colours.
* There will be a workshop given by Lorna McGhee on Body awareness – releasing unnecessary tension and building our trust & connection with the airstream, which is after all, the basis of all expression. Finding a natural connection to the breath gives us the ability to tap into the narrative quality of any piece of music, allowing us to 'talk' through our instrument.
* There will be a Recitals given by William Bennett, Lorna McGhee,Jagoda Korezminska, Yi-Hsuan Chen
* There will be a classes for the Orchestra studies by Vytenis Gurstis
* There will be classes about posture and body by David Katz, which should be of great interest to flute players to improve technique and avoid future physical problems .
http://www.williambennettflute.com/courses.html